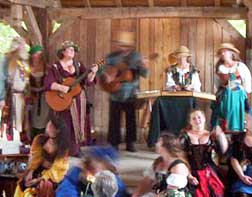 Music is a tender beast. It thrives best with ears to listen, hearts to absorb it and emotion to energize it between the audience and myself. Over 10 years ago, when I exited my position as The Cultural Arts Coordinator for the City of Houston, I decided that I would try to make a living as an artist. I had three goals in mind:

Goal #1. Build my own independent business as an entertainer and earn enough to at least keep the lights on and buy new guitar strings.
This concept is like an African violet. It needs constant care and attention, plus the right amount of light and water. I'm the creative director, marketing and p.r. person, agent, accountant, talent, driver, chief cook and bottle washer. Every year presents new challenges and opportunities.

Goal #2. Make a comfortable living as an entertainer.
In a feast or famine economy, some months are yummy and some are lean. I endeavor to persevere. The entertainment industry is all about the war of attrition.

Goal #3. Be a Bohemian with a portfolio.
Well, I could always win Publisher's Clearing House or the Texas Lotto!

Thousands of miles, all kinds of terrain, weather, festivals, fans and four CD's later, I've made a small dent in the folk music world. Karl Caillouet, owner of Heights Sound and the best ears in the Southwest, keeps insisting "There's riches in niches." I'm fond of lyrics from a Barton & Sweeney song: "We're an Americana band, we drive around in a van...we sell our CD's from the front of the stage, I said, we sell our CD's from the front of the stage, we make hundreds of dollars a year."

In the meantime, the reality of driving cross-country in Seabiscuit (the little pickup truck that doesn't quit) gives me lots of time to fantasize. I once followed a band's tour bus from Nashville to Memphis. It was airbrushed with the name Rio Hot on the sides. I imagined that it was my bus, driver, band, manager,and jacuzzi in the back. I waved wistfully as they took another route outside of Memphis. Seabiscuit and I kept pointing our noses west to Texas. My mom sums it up best, "It's a great life if you don't weaken." Thank you for giving me strength.

Diane Linn
Your friendly neighborhood Bard.